Deep in the heart of Appalachia are my roots. I don't often visit the town of my childhood, now less than half of the 6,700 census population of the 1960's, depleted by time and recession, by men who made fortunes and left. And by people like me, who in their youth, deserted it for college or war or work. I have as much fondness for this town, for this area, as I do for my aunt who still lives there, which is saying a lot.
Like many women, I fancied my alma mater's all-class reunion as a kind of 'red carpet' affair. Hair freshly colored. Finger and toenails polished. Unsightly hair eliminated. A light bronzing of skin. My stylish flat shoes were really for comfort, and my outfit, I hoped, made me look trim.
It's a process, looking my best. And even given my practiced expertise, I can only look less old and not so lumpy. But, at least I've forgone Botox and fillers. For now. After almost 50 years, I ask myself, "Think it's time to quit obsessing over appearance?"
My answer whispers back, "Maybe next year."
I wish I could check a preference box: "stay young" or "get old." But really, aging isn't that bad. Except for funerals. Things change, of course: the hair, the gait, the bones. Teeth yellow, eyes grow dim. Why had I never stopped to consider what it might be like—getting older? I think I was busy being young, feeling young. Even into my fifties. People say being old is a state of mind. Ha! Mostly, they are young and don't need extra rest or preparation.
Still, regardless of the added effort, I love reunions—seeing old friends, making new ones—escaping back to that place when the world was kinder, and a smorgasbord of opportunity. Back to when there was still so much time in front of me that "hurry" was just a ridiculous adult word in the dictionary, except when it came to my desire to drive.
Remember dewy, unlined skin. Remember band practice, ball practice, or even P.E. in hundred-degree heat. We easily endured the scorching sun or the bite of snow or whatever the adversity because we were going to live forever. Uncomplicated minds, obsessed with ourselves and our world. Like others before us, we thought youth was only hampered by adults.
Yet parents and many of the adults around us, even the seriously flawed ones, bathed us in the unconditional love and instruction comeuppance that was part of Appalachian nurturing. Teaching us, "Yes, sir" and "no, mam," sending us home when the sky dimmed low past the one street light that would shine our path, and calling our parents if we scuttled between train cars parked on the railroad track at the swimming pool. I remember swinging with my grandmother and telling her about my day, unaware I would remember it as a highlight of my life. I remember when my boy friends would hitchhike home with nary a repercussion. I remember when as a teenager, I had my very own burgundy and white Nash Rambler and thought I was all grown up.
Seeing old friends brings back these memories like nothing else.
As my husband Alan and I drove up to the old field house, where the reunion was held, it looked pretty much the same. How many times had I walked into this building wearing a maroon and white uniform as a band member and then as a majorette? Memories flooded me as Alan dodged all the parked cars straddling the yellow highway lines. Cars parked cockeyed around the field house, cars in yards, and even up into Sunset subdivision. Just like old times. He let me out near the front of the building. In my imagination, the Wolfpack was playing. My heart sensed the bustle of the crowd I would push through as a program would be thrust in my face—the band tuning up, cheerleaders chanting, balls bouncing. The noise. That blessed cheer: Maroon and white, fight, fight!

"Hey Karyn Cantees! I'd recognize you anywhere." My vision was interrupted as I approached the door. Thank God for nametags. Mostly I am clueless, recognizing almost no one except Facebook friends whose age progression I have witnessed. And sometimes not even then.
About twenty minutes into the hot September evening, in the un-airconditioned, geriatric building, sweat began to form around my hairline and moved up into my hair. I wondered how we'd ever performed in this heat. How athletes had played. People fanned with paper plates, napkins, the flap of their purse, whatever was handy.
These are my people. Fanning with paper plates.
Bloom where you're planted, the old proverb goes. I did once and I think I still do. I come alive when I am here. There is no mistaking, this is still home. These people own a chunk of my soul as surely as the Tug Fork River runs north. As surely as God birthed me here.
We aren't the elite. Language isn't perfect. Drawls and twangs are thick. Waistlines are sometimes thicker. But love is thickest. I am always smitten. And though Thomas Wolfe said, "You can't go home again," I always thought that one day I would. But, then I look around, and see the recession desolation. See how the world has shed its dusty Appalachian coat. A coat that warmed homes in winter and cooled them in summer. Exchanged for a green machine that rolled a grenade into this forgotten part of Appalachia with total disregard. Shattering businesses, mines, hearts, and wallets. And shattering the lives of the loving, hardworking, decent, God-fearing people who live here.
If you don't know people like this—if you think the best of the world is a Yorkie who will whimper across your grave when you die—you have my sympathy. Appalachian people would die for each other. And many of them died for you. Deep in the recesses of a coal mine. As their young have moved away, this proud, somewhat older population, assemble for funerals the way New Yorkers line up for theatre.
Among the alumni crowd I'm aware of many who are gone. Not just those who have died, but those who aren't attending this all-class reunion of a school that is no more. It's Williamson High School, It's Williamson High School, the pride of every student here . . . People are singing the Hail Wolfpack song. Many of the words I've forgotten.
I am at a disadvantage without my younger cousin Cheryl who serves as my memory at events like this. She not only assists with lyrics to old fight songs, but puts names with faces and gives me the history of Sally so-and-so, my classmate Millie's third cousin once removed who married Jared from the funeral home, divorced him after their only son lost his job in the coal mines, and now lives next door to the drive through pill mill over at Kermit. Yes, this is made up, yet not so far-fetched. But Cheryl is at our old friend John's funeral in Florida and I am on my own.
People think small Appalachian towns like Williamson, now settled sluggishly between two mountains, are awash in hillbillies and inconsequential lore. We weren't, of course, on Andy Warhol's radar; neither Stanley Kubrick or Alfred Hitchcock hailed our stories. Yet our small hamlet was flooded with ethnicity and dialects—mannerisms, customs, food, and language—and the gentility of the 'old country' folk who planted solid roots in this rural, faraway land. These Ellis Island immigrants became our merchants, our chefs, our stone masons, our entrepreneurs. And with them came the traditions of Lebanon, Israel, Italy, Greece and others. Each family brought distinctive customs and work ethics, and respect for their new country to our civilized and yes, cultured, little town.
That John's funeral coincided with the reunion is serendipitous. He loved gatherings. My Aunt Jeanette, ninety years young and holding court five tables across from me in this heat, without a paper plate, was like his second Mama. This kind and decent man, when in his early twenties, once stepped between me and a policeman's pistol. The bravest thing I've ever witnessed.
One weekend night my shoulder-length haired brother, fresh from college, was out for a drive in his new Camaro with two young, Ohio girls who were family friends. A policeman stopped him for passing a car on an unlined road. It was around 1970 and I was visiting from New York, I think. The girls said the policeman had harassed my brother about his hair and took him to jail. John and I arrived at the facility where my brother was detained and I lit into the officer. He pulled a gun and John stepped between us. Policemen then and now don't take kindly to disrespect.
Some things don't change, I muse. Like Williamson.
Being here is somewhat like stepping into a time machine. Not because it hasn't changed. It has. Floods and industry gone awry have taken a major toll on architecture, jobs, and population. But it's the people—kind, decent, funny, and friendly—who haven't changed. Maybe it's because they all know one another, maybe it's because they know my family or me. Or maybe it's because small towns just breed folks who are nice. And uninhibited. Like karaoke night at Starters, a local bar and restaurant, where even the less talented sing with the gusto of Tom Jones and are applauded and back patted as if they'd just turned four chairs on "The Voice."
Where else do you get that? I certainly don't know. Not today. Not when everyone has their face in a phone. Will let a door slam in your face. I hadn't even found a seat in Starters before I'd spoken to several people I barely know and as many old friends. My cousin Rod asking what I wanted to drink.
Years ago, I was jumping on my trampoline when the Lord spoke to me. I immediately stopped and sat down. He said a close friend would be moving back to Williamson. Since she hadn't planned this, I was to tell her. "Lord, are you sure? Was that really you?" It was the last thing my friend wanted to hear, I knew. She lived in a major city, was serving God and making the mark she hoped to make on the world for Him. I was as reluctant as the prophet Jonah about relaying this information. After praying about it, I sent her this email around midnight: "If you're up right now call me! Otherwise, I'll talk to you tomorrow. I think God is telling me to share something with you."
At 8:40 AM, she replied: "I can't believe this!!! When I started up my computer, I was going to send you an email saying the same thing!!! However, I don't have anything specifically to share… just felt the urge to talk."
No, she wasn't giddy over the prospect of moving to Williamson and said she doubted she would. But over a two-year period, God prepared her heart, and she moved home.
Home.
Why did I not want to tell her? Because, really, going home was out of the order of things. Whether home represents the pinnacle or the pit of your life, or something in between, you've been there. It's a stalemate. A do-over. A tied game. An old girlfriend or boyfriend.
Get on your knees and put your ear to the earth. It has been there longer than you, has been trod on harder than you have been trod upon. When I was home long ago, the earth said, "Move along, put on your big girl britches, set fear aside, and go into the world." No, I did not want to tell my friend to go back to her old boyfriend.
As I have written this, I have wondered where these somewhat disconnected musings would lead me. And not just these, but my life. I put my ear to the earth at the reunion. The earth replied, "This place is your safe harbor. A grown up heart needs nurturing, too." I realize from my friend that nurturing can simply be about getting back to a kinder and gentler place. God has taken me home as surely as he sent my friend there. Not physically, of course, but with my writing. Back to those whose hearts connected to mine so many years ago.
This verse from the book of Psalms is one I hold out as my own. One that I stand on and believe for. "Those who are planted in the house of the Lord will flourish in the courts of our God. They will still bear fruit in old age, they will be fresh and flourishing."
God knew where to plant me. Williamson is not, of course, the house of the Lord, but it is as close to heavenly kindness as you'll find on this planet. At least that's my experience.
In my older years, I am grateful God has allowed me to still bear fruit, to reach out to those who were once a part of my life, wherever they may be. To thank, to bless and to be blessed by, to cherish, and to say goodbye. He has allowed me to hold onto a piece of treasured history, and to some degree, relive it.
Oh yes, I am still that somewhat vain, crazy girl who graduated in 1967, but more importantly, like you, I am God's child, and I'm keenly aware . . .
"The woods are lovely, dark and deep,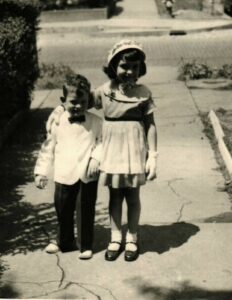 But I have promises to keep,
And miles to go before I sleep,
And miles to go before I sleep."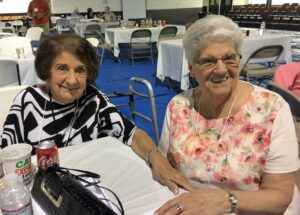 Poem "Walking by Woods on a Snowy Evening" by Robert Frost.
Photo's: my brother Rick and me; My Aunt Jeanette, left and Reunion organizer, June, right; Senior Majorettes and Cheerleaders-Captains, Me and Deborah, Front: Zshawn, Linda, Sherelene, Mary: Me, my cousin, Pat, and her husband, Ralph: Dave and Richard, in Starters: Linda and me in front of my Nash Rambler: Bobby and Danny in Starters: Suedy, Mike S, me, and Mike M. at Teen Club in the Moose Club.