A few weeks ago, I was on the beach scanning the wide expanse of the ocean.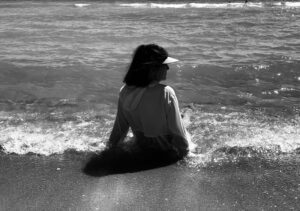 This enormous body of water, the very first thing on planet Earth, fascinates me. In Genesis we read, "The earth was without form and void and darkness was on the face of the deep. And the Spirit of God was hovering over the face of the waters."
We needn't imagine how God parted that first great, dark sea because the Bible tells us. "Then God said, 'Let there be a firmament in the midst of the waters, and let it divide the waters from the waters.'"
Such awesome power. In some ways it makes me feel small, but in many more ways I am elated that I have the enormous privilege of knowing our incredible Creator, this heavenly Megastar, my Lord and my Savior.
My husband Alan was with me on the beach that Friday. It was afternoon and we'd just settled under a beach umbrella. As I looked across the shimmering water, I was thinking about someone dear to me, someone very ill I'll call Heather. Suddenly the wind kicked up and my visor flew from my head. People started moving off the beach obviously more attuned to what was happening than we were. No more than fifteen minutes ago, as we'd set up, conditions looked perfect. Now, as the blustering persisted, clouds moved in and the attendant at the Tiki hut skittered up and down the beach collecting umbrellas. Alan and I ran for the hotel.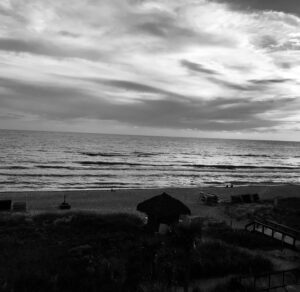 In our room we watched as the squall and the waves thundered. Wind whipping the sand so fiercely it became a part of the air. Breakers crashing against what, a few minutes ago, was a peaceful shore. That came on fast!
I thought about another sea. The Sea of Galilee. How Jesus' disciples, when a storm arose, believed all was lost and jarred Jesus awake in a panic. "How many miracles must you see to believe?" Jesus must've thought. But all He said was, "You of little faith, why are you so afraid?" Then He rebuked the winds and the waves and all was calm again.
That sweet calm. Sometimes I get addicted to it.
I had been thinking about writing Heather a letter as I rested under that beach umbrella, praying God to give me something worth sharing. Now, back in the room, watching the storm through our window, I noticed a sea gull trying to make its way up the beach flying into the fierce wind. He was flapping in place, uselessly it seemed, yet he wasn't deterred. Minutes passed and I wondered how he held on for so long, as I cheered him on. Birds have weather skills allowing them to detect coming storms and prepare for adversity. I was pretty sure this little guy knew more about what he was dealing with than me. Suddenly, he fell a couple of feet. I didn't realize what had happened at first, but finally I saw him, still flapping, just at a lower level. He seemed to be navigating better. And, then, finally, slowly, he fluttered away.
Hmmm. I thought about how Heather, and most of us, feel like that gull at times, fighting what seems like insurmountable odds, flapping against the storm. Sometimes we want to jar Jesus awake. "Jesus! Help me, please. I'm in the middle of a storm down here!"
Yet, we are reminded that God is with us, rebuking the wind and waves, never giving us more than we can handle, though it is difficult to understand at times. Especially as the day gets stormier and darker.
Yet, I've come to not only accept the dark, but to embrace it. I agonize sometimes, but still . . . Even the part where I cry for days because of an injustice. Or when I say mindless things and people won't forgive me. Or when pain is horrific or loved ones have died. And even when the fragility of aging alarms me in front of my mirror. Because in the dark is where I know I'll find the light. In the dark is where I learn who Jesus is and how to emulate Him. In the dark is where both my pain and my humiliation bind me to Christ. In the dark is where salty tears bring me closer to becoming the earthy salt Jesus spoke of. In the dark my Creator shines brightest.
Searching about in the dark for a light has scarred and dented me, so that now I can see others' scars and dents, and it has changed who I am forever. I can't change myself, but in the dark, I find empathy, forgiveness, hope, and purpose. In the dark, I find my dim path. And I remind myself: In the dark, I shine brighter and am more like my Creator.
Even a dark shadow needs a light to exist.
Stormy, dark days find us all. Consider the day our Lord hung on the cross, seemingly at His most infirm, when all seemed lost. It happened so quickly.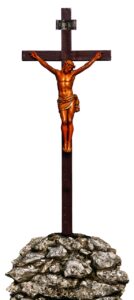 Jesus' darkest moment was preceded by an amazing three-year ministry, by His triumphal entry into Jerusalem just days before. Yet the light that came into the world couldn't become the "Light of the World" until He died. Unbelievably, Jesus—our example—did more for us in His darkest moment, in His infirmity, than He did in His ministry! I'd never thought of it quite like that.
So, as the day darkened that Friday on the beach, I thought of how we are to emulate Jesus. How God uses us as a light, and according to St. Paul, especially when we are fighting against a storm. "When I am weak, then I am strong," said the super apostle.
My personal experience confirms that some people demonstrate the love and hope of Christ greater while infirm or dying. Anyone can be charming and Christ-like when things are favorable. However, allowing people to see Christ in us when our bodies are hurting and stressed, when we are overwhelmed and our mood should be dark, and even when we are met with humiliation, anger, and resistance—it is during these moments that we have the opportunity to share the light and the love of our Savior in a way Christ must particularly love.
"Trust in the Lord with all your heart," the Psalmist says, "and He will direct your path." He will allow us, even, and perhaps, most especially, in our weakness, to be beacons of light and hope if we trust Him. This light, I believe, shines brighter than we can imagine and is the only Christ some people will ever see.
Like the seagull, we sometimes try to make a path against a headwind that appears to be holding us back. But, unlike the seagull, we know the One who calms the storm and also calms us in the midst of the storm.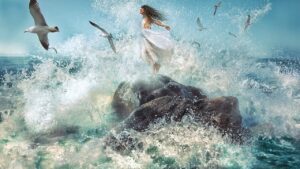 Isaiah 41:10, says, "So do not fear, for I am with you; do not be dismayed for I am your God. I will strengthen you and help you; I will uphold you with my righteous right hand."
How many times have I reached for that hand.
A short time later that afternoon at the beach, the sun peeked out from behind the clouds. It was too late to enjoy our beach plans, yet God's blueprint was everywhere. Had I not been paying attention, I might've deemed that glorious day ruined and missed the blessing, the story, I had prayed for regarding Heather. Though my fun in the sun day fell flat, God gave me a wonderful metaphor for her, now revealed to you, planted in a seagull.
Sometimes we want something mortal when God is trying to give us something much more immeasurable. Even eternal.
Allowing God to work out the plan for our life when we are hurt, hurting, disappointed, or perhaps riddled with fear—when it is contrary to our plan—allows Him to work through us and for us in a supernatural way. Showering us with the peace of God. Enabling us to experience the power of God. And revealing God's purpose, as only He can.
Consider—the same God who commanded that the firmament separate the dark seas at the beginning of the world is the same God who rebukes the wind and the waves for us. Like the gull, we may fall, but only into his arms. Remember St. Paul's, "When I am weak, then I am strong" declaration. Feel free to freefall, knowing He is there. Storms come fast, but most rarely last.
However, even in our darkest and longest hours, the love of God and the light of His Son are filling us, strengthening us, and guiding us. It won't always be the way we envision, but God's promises are true. "He will never leave us nor forsake us."
Not in the wind. Not in the waves. Not in the storm.
I am praying a miracle for every person who reads this. But just as importantly, I pray God will reveal Himself to you in a magnificent way.