Hallelujah for new beginnings! The last story in the trilogy about financial loss during the 1980s.
There are some defeats more triumphant than victories. So wrote French philosopher, Michel de Montaigne. After watching my husband Alan fight to survive the early to mid-eighties recession, when life's vagaries shattered us and tossed us down several flights of fancy, I determined he must ascribe to this philosophy.
It was a triumphant defeat for Alan in many ways, mostly because his joie de vivre never withered in that broken environment: the fight for his business, his reputation; the crying wife, despondent over the death of mother; the loss of several friends, and I use that term loosely; the death of the good life (let's be honest). Alan took one pounding after another, and after each knockdown, God bless him, he got up with a lop-sided grin.
I have been blessed in my whiny life to watch two people I love—my husband and my mother—maneuver through insurmountable, even horrible circumstances with more grace than I can sometimes muster in a long checkout line. I can be impatient and I like to be in control. However, after wading through illness and death, recession and survival, I discovered how not in control I am. Pretty much everywhere.
Our debt—because we didn't declare personal bankruptcy—seemed greater than my hope to repay it. I was fragile. Like a wounded animal struck by a hunter's imprecise arrow. And it was darker than I can portray. Not my mood, but the circumstances. The unexplainable tide that came against us. Our lawyers could not only not explain it, but were powerless to stop it.
Sometimes if things were particularly dark, God would pull me back from the precipice. Distract me from self-absorption and let me care about someone else's plight more than my own. Looking back, I see how these distractions helped me and others—that silver lining.
God's opponent was also busy. Over and over he played this tape in my head: "Trust no one, numb your feelings, get even, forget others, don't forgive," And the toppers, "You have nothing to offer, and, people pity you." I had more or less survived the losses, the debt and its extenuating circumstances, and even the death of mother, but that relentless, demonic voice was like lightning striking my sanity.
I had to quell that voice and block myself from listening. It was my lowest point.
Low points, however, are God's specialty; it's where the good stuff happens. I didn't know it yet, but at my gloomiest God would allow me to peek into the supernatural. I'm not talking white doves landing on outstretched arms or seeing angels—I'm talking uncanny occurrences, amazing coincidences, serendipity. That once in a lifetime when planets favorably align and you know that it is not happenstance, or whatever one chooses to call it. And your heart can at last sing a new song. Your circumstance remains, but Almighty God is thrust into the equation and absolute mysteries are revealed to your soul.
It was prior to this, however, in the midst of my misery, that Alan asked me to attend an industry conference with him in Lexington, Kentucky. I did not want to go. My presence of mind was reserved for God and for Alan, for a few friends, and for novel writing, my new hobby. The last place I wanted to share my limited lucidity was with people I didn't know—happy people, prosperous people, probably phony people.
I would pray about it, but some things even baby Christians know: spiritual well-being takes precedence over business and pleasure! One of the events was even at Keeneland, the horse track of Lexington's vanity. Where gambling occurs. No way God wanted me there! Except whenever Alan mentioned the meeting, my heart said, "Go." When I prayed, the message was "Go." Each time it was mentioned, I felt a tug at my heart that was difficult to ignore and harder to believe. "Go!" But I most assuredly did not want to.
"Go," however, was Alan's new mantra and while I was still fighting the demons of our past—Life Fights One and Two—he was suited up for Round Three. So, I did what every good wife does, I grudgingly went.
Alan assured me the people at this meeting were "good" people. "They don't know what we've been through, anyway," he said, "You don't have to tell them anything." Not to worry! There'd be no conversations about our paltry finances.
I still remembered how to spend money and I needed clothes and shoes. Given my love of fashion I was afraid I might initiate another groundswell of debt.
The first night I remember was the banquet. A few hundred people, many in small groups, chatted like old friends, drinking wine, nibbling on stuffed mushrooms and an impressive array of hors d'oeuvres. People without a care. Everyone in finery. Me? I felt as if I'd fallen through a sooty duct and landed in the jester's seat, spit out for scrutiny. Even so, my Appalachian roots kept my neck held high.
Out of the hundreds of people, Alan mentioned two men he hoped to meet. One, a company president, the other an entrepreneur. He had spotted them, but not knowing them, he didn't approach them. Not his style.
People stopped to speak to Alan, and I met a few wives. I began shedding my sooty indignity, started to feel lighter, even affable. I could feel the presence of God as we moved about, now talking like we belonged, sipping wine, nibbling appetizers, laughing. Dear God, we are lemmings.
Time passed fast, surprising me. Now we stood to the side in a large, impressive room, admiring the elegant round tables of eight for the dinner banquet. People had begun sitting at the white cloth-covered tables. Alan spotted an old friend, a Kentucky lawyer and his wife. "Mind if we join you?" Alan asked, as we approached them. "Come on in." The lawyer arose and pulled out a chair. Alan had spoken highly of him and his wife, but I'd never met them. They were funny and charming and we chatted easily. It was turning out to be a delightful evening. Thank you, Lord.
Out of the corner of my eye, I watched an older gentleman approach our foursome like he was honed in on radar. The lawyer grinned and stood once again; he greeted this well-respected mogul effusively, introducing him to Alan and me as the man sat down. Unbelievably, it was the entrepreneur Alan had hoped to meet. I gawked at him from sheer astonishment. Dear Lord, could it be?

As the mogul settled in his chair, a very tan couple moved toward us, the man chatting briefly at the next table. He was middle-aged, wearing a beige suit, his wife a gorgeous blond. They stopped at our table. "Anyone sitting here?" he asked, pointing to empty chairs. "Join us," someone surely said. But before sitting, he introduced himself and his wife.
Disbelief and wonder overcame me as they sat and I nodded "hello." Tears formed in my eyes and I quickly turned my head. God's presence filled me. The tan-suited man was the company president.
From one side of the room and then the other the two men Alan had hoped to meet made their way to our table. I prayed God would come to this meeting, prayed for it to be productive, and, yes, fun. My prayers were so generously answered. Thank you, Lord. Again.

The final day was Keeneland. Watching horses chase each other's tails around a track is as much fun for me as trailing a school bus across town in my car. True to the Bluegrass tradition of horse splendor, however, the room we were in was beautiful: dark wood paneling, colorful prints, rectangular tables, and oversized windows for race viewing. People moved elbow to elbow in the bustling room, chatting and smiling as they found their seats. The helpful wait staff dressed in black and white uniforms. Dinner would be served. Okay, this is nice.
When we finally came to "our" table, Alan grinned, recognizing the man on the end, a friend and fellow Tennessean, with his wife. I had not prayed God to provide people that I knew, but my heart wished for it. Introductions were made and we chatted briefly with them before Alan and I maneuvered to the chairs beside them.
As I made my way, my eyes seemed to deceive me, but my neck wouldn't budge for a double take. Considering how the presence of God had gone before us, I should've been used to things lining up in my favor. Yet, the person in the chair beside me was completely unanticipated. A fellow Williamson High School alumnus!
She was a few years older than me, an upperclassman I had admired. We hugged. She seemed as astounded to see me as I was to see her. Her husband and brother, both alums, were also there and we had a reunion of sorts. What were the odds? Old friends of Alan's from his beloved Tennessee on one side of us and fellow alumni from my high school on the other. Even at a race track, I wouldn't take that bet. God's planets had indeed aligned; He tended to our pleasure as well as our business. Once again I hid my tears.
Overall, it was a great day. In fact, that weekend was the best I'd had since Mother's diagnosis. Thankfully, I'd responded to that tug on my heart to "go," which allowed me to reshape my thinking. God, it appeared, did go to meetings and racetracks after all! He also showed me that I had judged these people, not based on who they were, but on my own circumstances. Forgive me, Lord.

Alan and I became regulars at these meetings and made wonderful friends throughout the years. The financial turmoil that had disrupted our lives eventually became a memory. Alan rebuilt his business as the eighties faded, and I began selling real estate, giving up a small ad agency I founded before mother's illness. We paid off our debt, some taking more than a decade. The road was difficult, but God was there, allowing us to be good stewards.
As I've settled into the time and space bequeathed me, I realize my joie de vivre, that heart-felt enjoyment of life that so defines my husband, now radiates within me, too. Oh, it flickers from time to time, but the darkness that captured my youth has departed. Why? Because my self-worth no longer aligns with my standing before "man," but rather before God.
Today, I can say that I also agree with philosopher Montaigne. There are some defeats more triumphant than victories. Yet it is not my own defeats or triumphs I reflect on. My mind sees Jesus. Hanging on a cross. Tortured, belittled, stripped.
Totally defeated.
Or so it seemed to those who watched His torture and death on that cross. As God's Messiah hung His head and said, "Father, into your hands, I commit my spirit," every believer's hope died with Him.
But things were not as they seemed. No.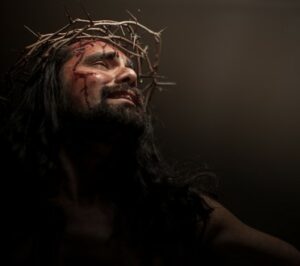 Because the promises and prophecies of God throughout the Old Testament, over 320 and counting, could not be fulfilled until Jesus Christ was crucified. The most triumphant defeat ever chronicled!
Jesus died to give us miraculous hope. And a miraculous hope can only come from a supernatural being, the Holy Spirit, the part of Jesus that lives in us. Please, please get this. Holy Spirit is not magic or kooky or weird. Holy Spirit is the reason people like me put their lives out there for others to scrutinize. He is why missionaries die in distant lands to "save" people they don't know. He is the supernatural touch to your heart that lets you know there is a God in heaven. He is the chime in your heartbeat. And once you've met Him, your world and your worldview are seen through a kaleidoscope of beauty and passion for the things of God.
Holy Spirit brings us mystery and enchantment. He is what caused St. Paul to say, "When I am weak, then I am strong," a statement that makes no sense unless you know Holy Spirit helps us to move mountains when we'd rather hide, to "see" circumstances differently, to imagine the unimaginable. He gives us wisdom, passion, unknown information. He is our adrenaline, our intuition, our light-giver. He is who prompted me to go to that meeting, to marry my husband, to write this blog.
To know Holy Spirit is to know we are mysteriously coupled with the Divine, and at the moment when things look bleakest, we aren't alone. During my moments of despair, the pain of this world didn't leave me, but God's footprint was everywhere; I felt it, I saw it. And I knew I was and am a part of something bigger than my pain or my circumstance. Think Jesus—things are not as they seem. It helped me then and it helps me now to go on.
Yet nobody wants to suffer. Even Jesus prayed, "Father, if it be your will, let this cup pass from me. Nevertheless, not My will but thine be done."
What if God had answered that prayer? We would all be toast.
What if God had answered some of our crazy prayers?
Today when I pray, I pray strength for my soul, that nothing is so grand or so tragic that it would divert my eyes from the wonders of God. To miss His divine mysteries is to miss heaven touching earth. It is the very thing Christ came for—died for.
"If anyone is in Christ, he is a new creation; old things have passed away; behold, all things have become new." 2 Corinthians 5:17
This is a part of the divine mystery. In Christ, I have a new heart, a new will, new sight. Holy Spirit fills me and I am totally renewed. Not just in the here and now, but throughout eternity.
Thank you, Lord.